Jean-Luc Picard est revenu dans notre vire, souhaitez lui la bienvenue, même s'il est sur Amazon Prime video. Moi, je l'ai fait et je n'étais pas déçue : )
En deux mots :
J'ai résisté pendant des années à Amazon pour adhérer à son programme de fidélité Amazon Prime et ainsi profiter des livraisons gratuites et rapides, des offres exceptionnelles ou des services numériques de streaming en musique et vidéo.
J'ai résisté non pas parce que je fais la guère à Amazon ou aux GAFA, mais parce que je considérais que je ne commandais pas assez souvent pour profiter des livraisons gratuites mais aussi parce que le monde de streaming me laissait complétement indifférente.
Tout cela jusqu'au moment où en regardant une émission américaine à la télé, j'ai vu qu'il y avait une nouvelle série avec Jean-Luc Picard qui sortait sur Amazon Prime ! Jean-Luc Picard ! Mon Dieu ! Alors ça, ce sont des nouvelles !
Il surgissait des années après de ma jeunesse pour me secouer à nouveau. Durant la série Star Trek The Next Generation, je me levais à 7h les samedis MATINs pour regarder les épisodes à la télé ; moi qui détestais à l'époque me réveiller aussi tôt. Mais pour Jean-Luc Picard et son équipage, j'étais prête devant la télé à 7h pour regarder les nouvelles aventures et savourer le contact avec des civilisations nouvelles mais aussi pour apprécier une séance dans le holodeck, une invention extraordinaire qui me faisait rêvait, ou pour continuer à espérer qu'un jour on inventera les lunettes « magiques » de Geordi et les aveugles pourront enfin voir, ou admirer la capacité de Deanna Troi de sentir les émotions des autres et ainsi aider souvent ses camarades à se sortir de situations délicates et parfois dangereuses, ou encore voir l'évolution du personnage de William Riker (si indiscipliné mais finalement discipliné aux valeurs de son équipe) et bien sûr m'amuser avec le personnage de Data qui était si distant en apparence mais si attachant.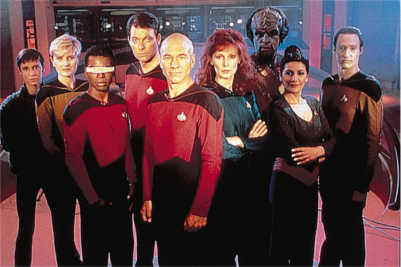 Des civilisations d'une intelligence supérieure et souvent avec des technologies inouïes, qui testaient l'ouverture d'esprit de la Fédération en mettant tout le monde en danger, ou d'autres fois des civilisations primitives, en danger par fois, qui méritaient une approche altruiste, pacifiste et d'égale à égale avec la Fédération. Et bien sûr une civilisation qui assimilait tout dans son passage (we are the Borg) sans aucun respect afin de créer une conscience collective et ainsi exister mais aussi imposer à tous sa manie de perfection qui caractérise son monde. J'ai aussi assisté aux affrontements avec les Romulien, ennemis jurés de la Fédération, qui restaient encore une menace contre l'ouverture d'esprit de la Fédération ainsi qu'à son esprit pacifiste.    
J'adorais Jean-Luc Picard pour son ouverture d'esprit, sa curiosité, sa patience et sa compréhension de toutes les situations où un changement vers l'inconnu était imposé. Alors cette nouvelle série a eu toute mon intention au point de m'intéresser au monde du streaming, car le contenu est ROI, comme on dit, et finalement c'est le contenu original qui m'a attiré vers cette nouvelle forme de distribution.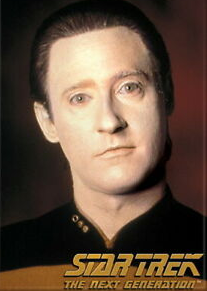 Pourquoi Jean-Luc Picard sort de sa réserve ? N'est-il pas vieux pour ça ? Finalement, on n'est jamais vieux pour essayer de comprendre un nouveau monde, si on le veut bien, même si nos fonctions corporelles peuvent s'affaiblir petit-à-petit !
Alors engage !
Bien à vous,
Dimitra