Desserts are simply my own "cute" sin, as the French say! Fat? I learned to manage! But making good desserts without a lot (or enough) butter and also manage efficiently sugar… it's a challenge by far more difficult because life without desserts, it's not called life!
I try though to make the best light desserts I can, but the domain where I excelled, is learning how to manage quantities! And this was a very difficult task but it was worth the try because I am not obliged to renounce to my sin :) And a sin that is "cute", it's no longer a sin :)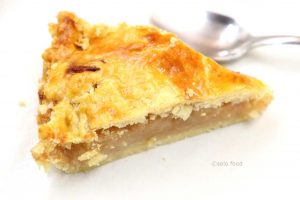 Vegetarian Food
An old fashioned apple pie with two layers of pate brisee and this changes everything! It's a classic American pie! Enjoy!
Read more...