Meat has a force so obvious that is no longer interesting. The question is how to cook meat in a gentle and thus interesting way! Stews manage to do this because of their velvety nature that is like a gentle touch to our heart and brings us instant comfort. Meat cooked in the oven, or grilled, or à la plancha can also be velvety depending on its cooking time. Nevertheless and in any case, it must be cooked with low fat because if not the result is heavy and unpleasant. But, what kind of meat?
The latest Weight Watchers approach is to push people towards low fat meat like poultry and turkey, but when we manage to control how much we eat (quantities), then we can eat meat that is a bit more heavier on fat (eg lamb pork, or some parts of beef or vial) but as always we need to continue controlling the fat we use to cook this meat.
I know that I insist a lot on fat but I do so because I know that we can make good or even very good food, without using a lot of fat, and if we do so, we win the bet on healthy eating, especially if we use olive oil and leave out cream and butter :) Try my recipes and tell me what you think!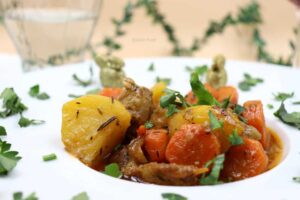 For Beginners
A navarin d'agneau is a French lamb casserole like no other! Veggies are beautifully cooked and the meat is tender and moist and has a wonderful flavor thanks to thyme, rosemary and wine! It's really good :-) Give it a try and you will not be disappointed!
Read more...