What is left to say about Greek food? Traditional Greek food is by far more simple than French cuisine but it is still very tasteful and it has nourished for years Greeks and often in very difficult times. Since the big crisis in 2009, Greeks started to be interested again in food and cuisine, many new chefs appeared in the "food" scene, and we only talked about "food" on TV when people did not have enough to eat. It's a paradox, I know, but it worked, because finally, when you have nothing else to lose and you are left with nothing, then food brings comfort, especially when you innovate.
My Greek cuisine is light but still very tasteful and good because it's healthy! It's your turn to try it :)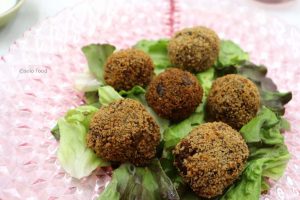 Greek Food
Eggplant croquettes like in Greece because it's summer and eggplants are the vegetable of the season! It's really easy to make and very good! Give it a try :-)
Read more...