Desserts are simply my own "cute" sin, as the French say! Fat? I learned to manage! But making good desserts without a lot (or enough) butter and also manage efficiently sugar… it's a challenge by far more difficult because life without desserts, it's not called life!
I try though to make the best light desserts I can, but the domain where I excelled, is learning how to manage quantities! And this was a very difficult task but it was worth the try because I am not obliged to renounce to my sin :) And a sin that is "cute", it's no longer a sin :)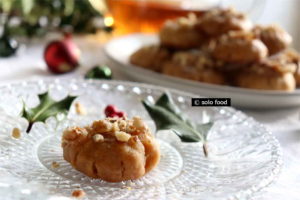 Greek Food
The melomakararona are traditional Greek biscuits that are served during Christmas in Greece! Everybody in Greece stresses on how to soak them into honey but this recipe is simple and straightforward! Nothing to fear and the result is extra good and tasteful! They are flavored with cinnamon and cloves and the honey is simply amazing! On top you will find some walnuts for some extra flavor and taste  Give them a try, they are very unusual but so good!
Read more...