Kampot black pepper is all over this site and maybe you are wondering why! Sure, it's a fine pepper but why this obsession?
In two words:
An obsession?
Is it an obsession? Well, no, it's not an obsession! Kampot black pepper was the first fine pepper I had ever tried and for this I chose to put it everywhere on the site, even if today I am using other fine peppers as well :-) But at some point, I was using only this one and it worked fine with me as when we taste a fine black pepper, we do not want to change it at all!
Actually, it's rather funny how I came across this pepper!
J'achetais déjà du poivre en grains qui coûtait 3,5€ – 4€ mais ce jour-là au supermarché, il n'y avait plus le poivre que j'achetais toujours, il n'y avait que le poivre noir du Kampot et il coûtait 3 fois plus cher !!! Je me suis dit « Je ne vais pas dépenser plus de 10€ pour un poivre ! » mais bon… je n'avais plus de poivre et il fallait que je cuisine ce jour-là alors je l'ai acheté ! Mais une fois que je l'ai goûté, je ne l'ai pas changé ! et j'ai compris l'importance d'avoir un bon poivre en grains ! Essayez et vous verrez !
Also available in different formats :-)

Other black peppers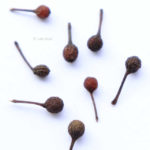 Smell
Peppery with a slight smell of mould
Taste
Quite heavy
Hot 
To make a long story short
Buy black pepper in peppercorns
Peppercorns give a strong taste in your dishes and thus much more character! Dishes become more interesting! Moreover, they give you the ability to use them in ground form or as whole peppercorns which has an impact on taste! Ground pepper is stronger but using peppercorns gives a milder taste to your dishes as you see in this recipe. Pepper is really good as are all spices !
A friend of my mine once told me that, using a pepper mill with its razor in full contact with the wooden cavity is much better than a pepper mill that has a plastic surface touching the razor. So I bought a fully wooden pepper mill and it's good  But for years, I had (and I still have and use) a basic pepper mill with a plastic cavity touching the razor so the question is what to do? Well, the important thinghere is to use a pepper mill and not buy already ground pepper. If it's not THE pepper mill that everybody wishes for, it does not matter, what matters is to have freshly grounded pepper for your meals and this changes everything in terms of taste! Just try and you will see :-)  
It's true that fine black peppercorns are more expensive than already ground black pepper (as you saw above) but you use much less and the taste is so much better! If you do not know which pepper to choose, just buy one and try it, or go to a specialized merchant and taste several peppers, for sure you mouth will be on fire (have some bread on your disposal, it helps), but this way, you will be able to choose what's right for you!
Long live pepper!